This site can give you an opportunity to earn money using adf.ly and linkbucks.
Here is the concept.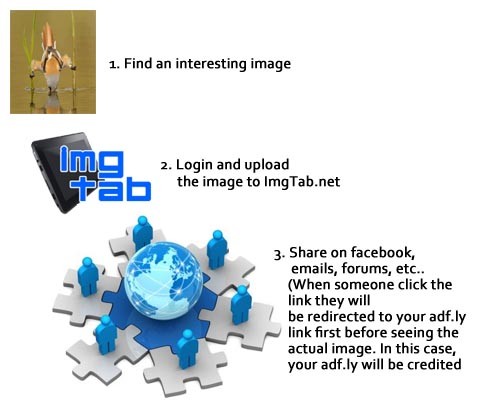 How to get your adfly code
Create an account at adf.ly by clicking here and click "JOIN NOW"

After successfully creating an account in adf.ly please follow below steps:
Click on Tools
Click on Easy Link
Copy the 7 digit number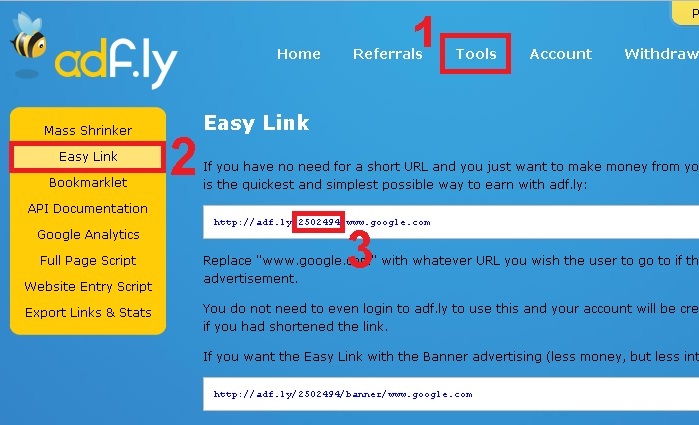 How to get linkbucks code
Register by clicking here
Visit this url and create a Full Page script
http://www.linkbucks.com/CreateLinks/FullPage/
Get the code highlighted in red:

Please take note that Linkbucks has a very strict separation between adult and non-adult content. Please be careful to get the correct code.
Setting codes in Imgtab.net
Create an account in Imgtab.net by clicking here
After successfully creating an account in Imgtab.net, Open this link and follow below steps:
Paste the 7 digit number copied from adf.ly
Paste the linkbucks clean/adult code to the correct textbox
Click save
Start uploading and sharing images and earn!
General Rules
You must be logged in while uploading images.
You cannot view ads when viewing own image. Please try other browser to test or logout.
Please do not promote images by means of spam.
Notes when using Adf.ly:
Please upload family-safe images only.
Please select family-safe when uploading images. (Adf.ly only works in the family-safe gallery of the site)
Notes when using Linkbucks
Make sure to put correct photo type. Family-safe for clean advertisement and Adult for adult advertisement.
Make sure to generate the correct code for clean and adult ads
If you have questions,